Sycamore Bellows @ Burford
£220.00
Attractive, light coloured sycamore wood in this bellows is complemented by a subtle sage green leather, black powder coated metal nozzle and black tacks.  The sycamore features an intriguing ripple that creates a 3D effect that lends special appeal.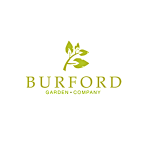 These bellows are in stock at Burford Garden Company – click on logo to see their website with address and opening times
Each bellows is crafted from locally sourced timber that is inspected and selected for its grain, knots or characteristics that make the finished product unique.  Some time goes into sanding and shaping – particularly to make sure that the handles are smooth, comfortable and provide the perfect feel from the very first time you pick them up.
The leather is soft while strong to give your bellows great 'lungs', as well as providing the covering over a double hinge to ensure the strength of the bellows for years to come.  The metal nozzle, designed by Anne and engineered locally, is made to focus the flow of air just where you need it.
The bellows are balanced and comfortable to hold as well as being very practical and useful.
Approximate size: 58cm x 18cm – 23″ x 7″. Weight: approx. 1.4kg.
Out of stock